See I'm a 21st century digital boy
I don't know how to read but I've got a lot of toys
My daddy's a lazy middle class intellectual
My mommy's on Valium, so ineffectual
Ain't life a mystery?
I feel like a dinosaur. Our landline has been out for 3 days now… and I feel totally out of touch with the world. LOL
I hate the phone. It actually gives me anxiety?! Weird I know but I sweat and ramble and after I usually have to go to the bathroom because my stomach has cramps lol So I pretty much talk to a few people only and only 1 a week or so lol. Pathetic I know. You should have seen me when I worked on a switchboard!!!!
However, when you don't have a phone, it is awful! I do have a cell phone but I pay for minutes. I only have 20 minutes a month. All I need believe me
J
I do unlimited texts, but usually can't find it at the bottom of the diaperbag anyways LOL
Today I called our house to see if the phone was working yet. It goes right to the machine… with my Mom's voice. I hung up right away. I knew it was there but it gutshot me anyways. I called right back. It was nice, kind of, or something. I don't know yet. I have to think about it more
J
Yesterday I was busy in the kitchen. I made homemade mac & cheese and Dijon chicken. I would have to say the pasta was a MASSIVE flop. I don't know maybe it will be better for someone else, SBean loved it! We ate it but it was sooooo heavy. I think if I did it again I would just make the pasta in water instead of milk.
Anyways, if you like milk and cheese, this is for you!

Dijon Honey Chicken Supreme
Salt and pepper chicken. Throw it into a ziplock bag with the honey and the mustard. Let sit in the fridge until you're ready. (At least 1 hour)
Bake until no longer pink about 30 minutes. While chicken is in the oven, sauté your mushrooms and onion.
When chicken is done, top with 2 slices of bacon and a big spoonful of veggies. Sprinkle some cheese on top and put under the broiler until bubbly.

1/2 cup gouda cheese, grated
1/2 cup mozzarella cheese, grated
1/4 cup parmesan cheese, grated
2 1/2 cups of milk, separated
2 cups of macaroni pasta
2 heaping cups of cooked/leftover veggies
1/2 teaspoon garlic powder, separated
1/2 teaspoon dried parsley
1/2 teaspoon paprika
1/2 teaspoon mustard powder
1 tablespoon parsley, chopped


* This is a fabulous opportunity to raid the fridge for leftovers. Peas, carrots, broccoli, spinach, squash, anything you have on hand will work great! Prepare them anyway you choose, steam, roast, or sauté them!*
Turn your stove to medium-low heat and add your pasta and 1.5 cup milk in a pot and season with salt, 1/4 tsp of garlic powder and pepper.
*Lightly simmering the noodles in the milk will use the pasta's natural starches and result in a thick, creamy sauce*
Stir, depending on the size of your noodles, you may need to add an extra 1/2 cup of milk to help them cook.

Once you get close to the 7 minute mark begin to stir constantly. In about 10-15 minutes or so the noodles will be fully cooked and the milk will have thickened into a creamy sauce. The second it gets THICK, add 1/4 cup of milk and turn heat to the lowest setting.

Add the gouda and stir. Then the mozza and parm cheeses, followed by your veggies. Adjust the sauce to your desired thickness by adding more milk and even add a little extra cheese if you want.
Add mustard powder and paprika and an extra pinch of garlic powder. Add salt and pepper to taste if needed.

Stir in cooked veggies after adding your cheeses and garnish with a sprinkle of fresh parsley.
Does anyone else watch The Biggest Loser? I like Rachel from the beginning but I was going for David.
However, Rachel won and I have to say YUCK! 105lbs… that is smaller than me at my prebaby weight and I am pretty small! She looked gross. Her arms looked terrible. They should not condone that type of weight loss. Curves are good ladies, in fact curves are GREAT! I hope Rachel puts some meat on those bones ASAP!
The Bachelor… OMG did they do IT? Oh Claire, have some respect for yourself Dear. (Yes I realize what show she is on) LOL
Philip Seymour Hoffman, what a shame. I read that Rory's boyfriend (Gilmore Girls LOL) tweeted that his death was stupid and that we shouldn't feel bad about deaths that are their own fault (total paraphrase!). I kinda agree.
Don't throw mental tomatoes at me please. I know addiction is a disease. I agree that it wasn't his fault. BUT, not everyone injects themselves with heroin. He wasn't an addict the first time. It WAS senseless and stupid, but sad, very sad. He had a family and he was a very good actor. It is a shame :(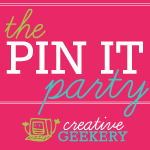 - See more at: http://oneorganicmama.blogspot.ca/2014/02/the-pin-it-party-40.html#more